BYO
Pappa Ciccia is a Bring Your Own (B.Y.O.) and fully licensed premises
That means that you can bring your own favourite bottle of wine or beer to enjoy with our traditional Italian food.
A modest £4.50 corkage fee will be charged per person (not per bottle) this means you can bring many
bottles for a set price of £4.50 for each guest.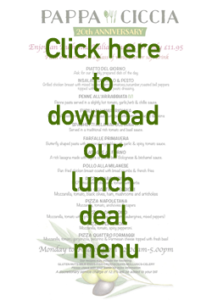 We have a strict reservation policy for BYO and the maximum number of people in a reservation
with BYO is 6 dining adults, unless pre-authorised with the management
Due to license policy, you can only bring WINE and BEERS.
---
Parties & group bookings
In order to secure your reservation, we must receive an email from the party organiser acknowledging that everyone attending the event is aware of the B.Y.O. terms and conditions.
We would appreciate 48 hours notice of cancellation or changes in numbers if possible.
We look forward to sharing the welcome that makes Pappa Ciccia Special
For further help please email shelly@pappaciccia.com
Alcohol consumption laws
A 16 or 17-year-old is allowed to drink beer, wine or cider with a table meal provided an adult purchased the drink.
The adult must also be having a table meal. Bar snacks do to not count as a table meal.
Documentary evidence can be a photo driving license, passport, proof of age scheme card which carries a pass logo.